Dear Friend and members,
This is my humble effort to invite you a real incidents . The subject matter of discussion is a failed student has secured 3 Rank in CA final exam 2010. First segment we will discuss detailed about him and next part is inspirational part to All the CA students. Let us travel one year back (flaash back) for May 2010 exam.
About our hero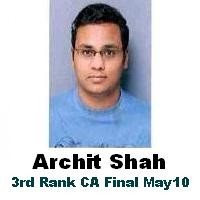 Ø His name is Archit Atul bai shah from Ahmadabad.
Ø Secured All India 3rd rank in CA final exam conducted at may 2010.
Ø He was failed more than 5 subjects during November 2009 exam.
Ø The result percentage of Old course was 3.45 % during may 2010 for old course.
Ø From Ahmadabad 628 students were appeared for CA final (Old) Course and only 42 students were cleared.
Back work to secure Rank. (Mental preparation)
Ø It was Archit's die-hard attitude that earned him the top slot in the all-India exam conducted in May.
Ø He says that hard work, smart preparation, Good support from his parents and faith in god. All these factors helped him to secure Rank.
Ø He was able to learn the lesson from his failure. The mind was tuned to face the challenges. Able to survive from the negative enviourment.
Ø From nothing, he can able to make the wonder. Securing the rank in the toughest result situation is an outstanding effort.
Ø If there is a will, then, you will automatically find the way to achieve.
His Method of preparation for exam
Ø Good daily routine study and tried to utilize the maximum possible time available to him.
Ø Discussion of subject with some of the friends and used to solve the doubt by each other (Group effort)
Ø Solving the practical problems by himself ( Understand the concepts and solving the practical problems by himself.
Ø He prepared from past question paper of ICAI exam, RTP, along with the reference book
Ø He is also concentrated on latest amendment and case laws for Direct and indirect tax exam.
Ø He have the habit of making own notes for concepts, provisions and head point of answer that saved his time during revision time and able to cover full syllabus effectively.
Ø He set a minimum 60 mark as target on each paper.
Ø
Ø He covered the topic very thoroughly at the first time of study.
Inspirational lesson from Archit
Ø Even if you have failed, believe your selves that you can also secure a good result in any of the worsted situation.
Ø Never waste time by upsetting with the previous failure. understand the mistake and make your mind challenged to secure a good result.
Ø Following are the formulae which you have to mix together.
1) Hard work
2) Smart preparation
3) Positive zeal of mind.
Ø No wonder, you can also make wonder for this may exam. Let we wait, who are going to make the wonder in this may exam . Let us watch who will become a hero just like Archit .
All the best
CA vivek M