Court :
Centre The Commissioner of Central Tax, Belgaum Commissionerate, Belagavi.
Brief :
Whether the classification of Hydraulic Power Pack falling under HSN 8412 of Customs Tariff Act, 1975 as adopted to GST can be treated as "Part of heading 8906" attracting 5% IGST (2.5% CGST + 2.5% KGST) as per Schedule I (Sr. No.252) of Notification No.01/2017
Citation :
KAR ADRG 50/2021
THE AUTHORITY FOR ADVANCE RULINGS IN KARNATAKA GOODS AND SERVICES TAX VANIJYA THERIGE KARYALAYA, KALIDASA ROAD GANDHINAGAR, BENGALURU - 560 009
Advance Ruling No. KAR ADRG 50/2021 Date : 29-10-2021
Present:
1. Dr. Ravi Prasad M.P. Additional Commissioner of Commercial Taxes
2. Sri. T. Kiran Reddy Joint Commissioner of Customs 86 Indirect Taxes
Member (State)
Member (Central)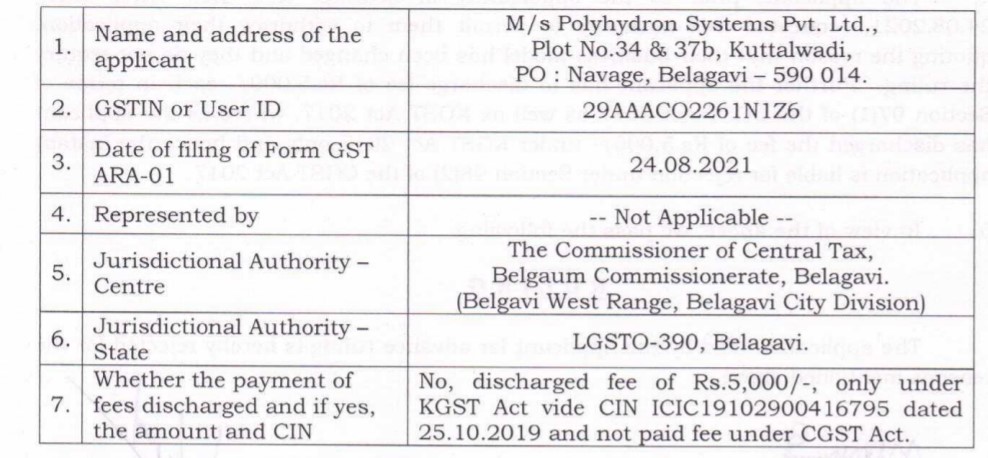 Please find attached the enclosed file for the full judgement.