Member Since : 25 June 2011 (New Delhi)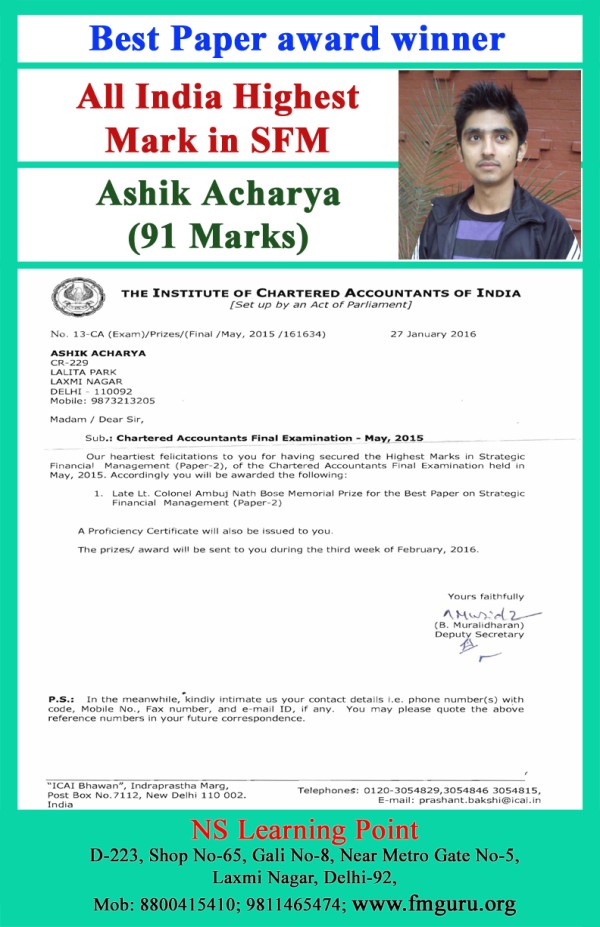 Get all updates from www.fmguru.org
Click here for Nagendra sir Class Schedule for CA Final SFM paper.
For our popular discussion on forum click below:
Teacher's effort in SFM
1. SFM PLS HELP ME OUT !!!
2. How Nagendra sir class for SFM CA final
NS Academy is one of the CA coaching classes located at New Delhi providing quality educatin for SFM(MAFA) paper to the CA Final Students and COST and FM for CA IPCC Students.
CA. Nagendra Sah, a widely acclaimed chartered Accountant in the field of Financial Management, qualified Chartered Accountancy in June 2009 scoring highest mark in strategic financial Management, is teaching SFM(MAFA) in our institute. He has cleared all the level of CA examination in first attempt.
He completed his intermediate as well as graduation in science with statistics honours from the esteemed Tribhuvan University, Kathmandu, Nepal. He has been a university topper and awarded prize for securing highest mark in statistics as well as mathematics.
He is first person to write SFM summary to provide the quick revision of all topics of all chapters, to write the SFM theory for examination point of view in very short manner so that student can easily remember it.
---
Note : Hidden content . Visible only to logged in members