Introduction to the course
As the program name suggests, this course has been designed to introduce participants to the world of trading in a structured and methodical manner. Professional Trading is about developing core competency and specialization in the instruments your trade. The Beginner Video Education Series has been designed and delivered in a way that makes complex concepts extremely easy to understand and relate. The combination of Theory and Practical Application via course delivery on EmTrade differentiates the program from other courses available online.
Why should I complete this course?
Trading can be done for cash flow and income generation. It can be for both part time income or as a full time profession.
Who should enrol for this course?
Fresher seeking to learn basics of trading.
Earn extra income.
Market participants who wish to upgrade their knowledge and trade professionally.
What are the advantages?
Course designed by a team with over 50 years of market experience.
Up to date programme module.
100% focus on practical learning.
Proprietary Tool: EM ProTrade.
Live Market Learning – use of simulator to test concepts studied.
Study Material Provided.
Access to weekly webinar for market analysis.
What is the USP?
Combination of Theory + Practical Application.
Content delivered in a format including Presentation and usage of EmTrade (Proprietary Tool) to aid in applying learned concepts.
Access to weekly webinars.
Availability of Study Material.
Contents of the Course:
Why traders lose money?
Educated Approach to Trading
Trading Terminology
Interview with Professional Traders
Intro to Futures & Options
Day, Swing & Positional Trading
Time Frame & Charts Type
Candle Stick Construction
Candle Stick Interpretation
Support Band
Resistance Band
Trend Stages
Uptrend
Downward Trend
Sideways Trend
Moving Averages
Bollinger Bands
RSI - Relative Strength Index
Top Down Approach
Putting it all together
Interview with Mr. Bharat Nanavati – Professional Trader
Interview with Mr. Shrikant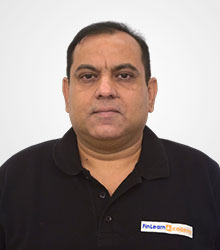 An industry veteran with over two and half decades of experience, Hitesh has had a successful career as a Technical Analyst and Market Strategist across top tier firms both at Retail and Institution level, including Citi Investment Research and Global Markets, Centrum Broking, ShareKhan and Motilal Oswal. Having developed in-depth product expertise, Hitesh has effectively developed courses in the domain of Trading and Investing across multiple delivery platforms. He is Head-Education at the FinLearn Academy since inception in 2016.
Total Length of Videos: 3.5 Hrs
Expiry: 3.0 months or 30 Hrs
Videos are meant for web viewing only and cannot be downloaded. Videos are available in Full Screen viewing
Course/Subject purchased once cannot be cancelled.
Buy now