A conversation with


K.N.V.V Upendra


2nd Rank Holder, CA Intermediate (IPC) Exam


Mr. KNVV Upendra IPCC 2nd topper from a small village called VUYYURU is a proud student who loves watching Telegu movies. He kept himself distant from Mobile phones and Internet in today's world to reach this level. A very laborious student who has dreams in his eyes who set his goal to get first rank in CA final, shares his experience with us. Let's find out what he has to say.


Many congratulations to you Upendra from CCI. So, how are you feeling right now?


Thank You Sir !! Now I am thinking about the final preparation & articleship.

Alright, so what was your first reaction after seeing your scores?


When ICAI President called me announcing the result, I was very excited at that moment. That moment, I felt very proud to be a CA Member. When I confirmed my hall ticket number with the President, I was very much excited about the result and I felt at the top of the world.

That's Nice, What did President tell you?


On 31st July, nearly around 2:30, the President called me and said that you have secured 2nd rank in May IPCC 2013. He congratulated me and I felt very proud that president called me to congratulate.

So, when did you decide that you would have to pursue CA as a career?


Actually, when I wrote my 10th class examination, I felt going for Polytechnic or other B.Tech courses but my parents told me that there is a better future in CA course. They said that you have the talent and skills, that way they encouraged me to go for CA. Then to explore the opportunities one can get as a CA I spoke to some other seniors who have done CA. They said that this course has plenty of opportunities and you have that talent and don't worry about the result: Pass/Fail/Rank; don't think about that. Just enjoy the learning; you can enjoy the subjects like FM, Costing, Accounting etc. Don't think about the rank/result which you will get. I was motivated with the words that they told me so this is how I have chosen this course.

As you said that your seniors and parents have supported you so would you like to thank them?


At this moment, I am very thankful to my parents who allowed me to join this course and I think for this rank credit goes to my parents and the teaching faulty who motivated me a lot.

Can you share your journey with us?


Sure, after I chose to go for this course, I have given the attempt for CPT in June 2012. I was qualified but I was quite dissatisfied. I have lost the rank by 3 marks. That moment I felt very sad. My parents were little worried that what am I doing. I went into depression and I didn't want to do this course. By 3 marks, I have lost the 10th rank. I felt of not to study now or continue. But my parents told that don't think about the rank. They said you have done the CA-CPT course in 3 months, many people are doing it in 6 months, they go for coaching in 2 years, but you have taken the course only in 3 months, you have achieved marks nearest to the rank. This is the success, don't think about the rank, and continue. Again, I am thankful to my parents, they have motivated me again to do this. Then I joined the IPCC coaching classes. After coaching, I had time for nearly 3 to 4 months to prepare for the main exam. Then, in that moment, I made my ultimate goal I thought about the 1st Rank. May be in my heart, I was thinking can I get this- in my CPT results I missed 10th rank by 3 marks so can I achieve my goal this time. So, in that way only I started, but slowly after revising 1 or 2 times the syllabus, I got the confidence that I can do my level best. In that way I have proceeded which gave me the success.

Now what are your expectations from yourself in CA Final?


I can't say about the expectations but I will try to do the best so that I can secure the 1st Rank in CA Final. I want to try and as they say success comes to you only when you go through it, so I will try for it. Success may come or may not come but I will try my level best to reach the All India 1st Rank in CA Final. I have lost the opportunity to secure the 1st Rank in IPCC. There was nearly little difference between the marks secured by the 1st Rank and the 2nd Rank but I want to reach that 1st Rank.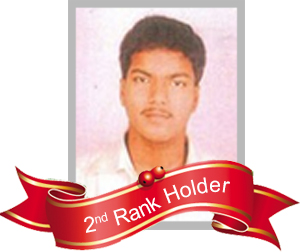 Can you share with us, in a day, how many numbers of hours you would study and your strategy?
As many students have called me and asked me the same question. I want to share this with every CA student that plan your schedule properly. For IPCC, I have gone for coaching classes; I followed the lessons which were suggested by the Institute lecturers and other CA Members. I followed this for 6 to 7 months. Nearly 6 months, this strategy was followed. Next 3 to 4 months, I started studying for nearly 13 to 14 hours. I have done this continuously for 4 months. Some days, I had to study even for 16 to 17 hours. But, I did not feel bad about that, as I was doing that for my sake, not for anyone else. I wanted to prove myself. I haven't got the rank in CA-CPT. I wanted to show many people that I can achieve this. So I don't bother about discomfort. I have secured the rank and this made me very happy. I forget all the troubles or difficulties which I have encountered in this last 1 year.
What kind of hurdles and difficulties have you faced?
When I joined the CA course, some of the seniors discouraged me telling whether I can complete the CA course in 3 or 4 years, will I be able to manage securing pass marks in the subjects? I have heard such words. Even in my home-village, people who were doing CA course, tried to discourage me and spread negativity. I have heard all such things but I didn't bother as I didn't want to hurt anyone's feelings. May be they said all that as per their experience.
Have you faced any difficulty in getting good classes?
I faced a bit of difficulty in that but I managed to control. There was just one thing in my mind that I have to prove myself and parents in the society and the people who think I can't make it possible. I have to prove to those people who discouraged me. In that way only, I have managed to learn, practice, and revise the entire syllabus for nearly 6 to 7 times. I never felt bored or that why to read this or will I get the rank reading so many hours or by referring so many books, but that didn't prove to be any barrier and I continued reading in that way.
Apart from the studies what are your other hobbies?
I like watching movies and listening to music.
Which is the latest movie that you have seen?
Last movie I saw was a Telugu Movie; I don't follow much of Bollywood or Hollywood movies.
Are you a member of CCI?
Frankly speaking I am not a member of CCI as I kept myself away from phone, internet and television, so I hardly surf the Internet. But I will explore the site now.
I am sure you will, Would you like to give any message for CCI Members and your juniors?
I don't think I am that big to give any message. But I will say from my experience: Some may reach or some may not but one should never lose hope, I was inspired by the message given by A.P.J Abdul Kalam that 'things won't come true unless you work hard continuously to reach them'.
So, after knowing your results and so much of labour and hardwork do you have any plans for celebration?
Yes Sir. I am very happy and would definitely celebrate.
Thanks for talking to CCI!! Once again many congratulations to you and all the best for CA final.
Thank you!!