Transcript of the Interview

Hello Folks!!

He is the teacher who makes Costing and Operational Research a subject of great interest. His interpretation of the subject is his uniqueness. We are very glad to have with us the one and only Mr. Sanjay Aggarwal. He is also known for his patience and simplicity. !!! So,let's have a chat with him.... ....
CA Nikita Jain
Sir tell us something about your subject expertise, about yourself, your education, schooling and how did you take up this subject?
Mr. Sanjay Aggarwal
My name is Sanjay Aggarwal. I got this subject as a challenging when I started in 2002. At right that movement some teachers already exists in the market but I have done as a ICWA in 1992. I feel Costing is a main interesting subject. Due to some concept lying in costing but I feel some students learn and by learning they take it as a concept but that is not the concept. They say sir like "Aisa Hota Hai" but they doesn't know how it comes. They applies it as it becomes like that vo ek phenomena hai ki vo usko next question mein use karna chahte hai but I feel its not a phenomena its not a develop practice it may be in exams day they feel some problem so I develop the concept and I like the concept. When I develop the concept with some foreign writers books then I feel that I can teach it and then I enjoying CA institute classes and from there it improve and then I started the private coaching it means likely grow when student learn from us they feel the difference between the other teachers between the other books and our concepts and the students will like growing like that. When they feel what did the lecture what they are saving from other books and other teachers then it grows like this like this.
CA Nikita Jain
How did you start teaching like in the sense that what was your inclination towards costing subject in the sense "ki jab aapne CA course liya tha, then how did u actually think that this is a course that I want to pursue" because students are mainly confused at that time?...
Mr. Sanjay Aggarwal
Due to the concept that I learnt in ICWA coaching and due to ICWA and after ICWA joined so many companies as a cost consultant right from there I feel if there are some "lacuna" in costing in the teaching industry. After doing cost audit in so many industries I feel and I have perfect in costing fields.Then I feel is it ok accountancy, Is it ok tax, kyonki CA ek aisa course jo aapko sabka master bana deta hai. To aap kisi bhi field mein ho sakte ho. You can teach in tax, indirect tax, direct tax means you can teach any subject after completing CA. There is no problem but in my case due to my ICWA and due to my experience in some industry I feel its my favourite and I can teach its very well than others but not due to the market because some teachers are exists in that time in market also that's why I joined this.
CA Nikita Jain
Sir, there must be an Ideal I mean a person who has influenced your life till now?
Mr. Sanjay Aggarwal
Influences!! So many influences are there like at that moment Vinod Gupta was there. So everybody knows him and everybody says that teaching in auditorium at that moment though auditorium fashion is there. That we can say his ideal person..
CA Nikita Jain
You've been known to be the best in North India for coaching in Costing and OR for CA course and other commerce related courses. So how does it make you feel?
Mr. Sanjay Aggarwal
Acha hi lagta hai. Hum yeh nahi kah sakte hai ki hum top mein hain. We didn't say that we are topper. Hum yeh kah sakte hain ki every moment is a challenging moment and every new point is a different from previous point. Hum ye kahte hain ki hum apne liye pichla challenge..
CA Nikita Jain
So basically, aap bol rahe ho ki har ek nayi class apke liye ek naya experience hai?
Mr. Sanjay Aggarwal
Naya experience hota hain, aur hum yeh koshish karte hain ki in every lecture we are doing different then preceding that we have done in the last, so that we can improve. So top to last bhi nahi huwa na..top to kabhi nahi ayega.aisa hum sochte hain..
CA Nikita Jain
But still you are the best in costing!!
Mr. Sanjay Aggarwal
That you can say. That is different in opinion in different student..
CA Nikita Jain
What drives you to stand four hours at a stretch on that platform to teach students, i understand the revenue part obviously but this is not the revenue??.
Mr. Sanjay Aggarwal
Revenue, is another thing, but we feel a confident, a patience, a satisfaction that the students are getting and they are going to examination with a great confidence and they have a confidence that they can pass it. One example is there, mene ek coaching di thi jalandhar mein in 2003, there are 70 students at that moment, they had attempt too many times, just like three or four. So the first time the CA institute arranged a special lecture for costing. So they provide us only three lectures for eight hours. So i request its not possible to complete or there is no beneficial for the students. We take seven lectures for seven days and we stay there for seven days, eight hours. We did complete syllabus for that at our cost, our own cost. But after the result, they thanked, matlab unka itna tha ki woh kah nahi sakte ke unko kya mil gaya. They can't explain that in their words. So, woh jo satisfaction level milta hain, you can't buy that any moment. uski cost nahi hain..
CA Nikita Jain
That's what i am saying that its not about revenue..
Mr. Sanjay Aggarwal
Ya revenue is another thing to wahan se jo encouragement milti hain, ek ajib sa satisfaction milta hain, woh kahin nahi mil pati, woh ek example hai. Toh woh aise hi lagbhag yahan bhi milta hain,
CA Nikita Jain
In an ideal situation to teach an entire jam packed auditorium for CA course which requires minute and expert understanding, how much is it fruitful? It is i know, but there are rank holders and good students who come out with flying colours from your classes, but what do you think, self studies are not sufficient at all levels of CA course?
Mr. Sanjay Aggarwal
Self study altough is a sufficient in theoretical subject, because self study does not create any concept. Its ok it creates concept but it will take time and the student have time constraint. Within the time constraint they have to do articleship. Ok articleship is completed. They are interested in some salary paid employees. So they are engaging in some practical work. So they have no time to spend more on study. So they feel, if we give money and get all concept which they are going to develop in two or three years, they can save their money, they can save their time. If they devote the money and get the result pass in first attempt that is better. So they do not understand that they can develop their concept within one attempt, which we have developed in two or three years. After passing they are the student, so how can they imagine. One thing is more there, when we are delivering our concept, they are not just some time; they are not able to digest at that moment how can they develop. Digesting time is too much, to manufacturing time to jyada hi hoga.
CA Nikita Jain
Okay, guidance is what is needed mostly, i feel, for the CA students because there is no campus, there is no daily interactions amongst teachers and students and to follow the herd is what i feel the students are doing?
Mr. Sanjay Aggarwal
Interaction to hota hain.
CA Nikita Jain
Interaction ab hone laga hain coaching centers mein, but otherwise nahi.
Mr. Sanjay Aggarwal
Otherwise nahi. If we keep coaching separate, there is no coaching if you presume then there is no interaction.Nai hum aisa nahi kar sakte hain, CA students main bhi ek hain, ya hum yeh kah sakte hain ki, they conduct elaboration test, like that.hain par usme thoda topic different ho jate hain, subject matter pe itna nahi hota hai ki utna contact ho pate hain. Due to change of the cycle of their politics, phir bhi they manage their classes at the ICAI Bhawan, Vishwas Nagar. They try to interact with each other, but we are not able to say that their interaction level is too much. But still thay have interaction level.
CA Nikita Jain
Do you have any ideas presuming that we don't have a coaching class. Can we do anything else for the students to give a campus feel?
Mr. Sanjay Aggarwal
Ya, we give a practical training to them in addition to the regular training they are doing. We can change their practical training in some like different because hum humesha ye feel karte hain ki MBA is better than CA. While MBA is not getting too much practical training, their confidence level is too high. I think personally, due to some expertise is there, they have only one field MBA in finance, MBA in marketing aur CA mein sari marketing hoti hain, all subjects are together, this is the main reason.
CA Nikita Jain
Sir, there is lot of demand for CA's in our economy right now. And am sure that the guidance from you is helping the students to lessen their numbers pressure, but don't you think that there is no balance between; as you were saying practical and the theoretical aspects in CA, like in medical because students hardly give any attention to articleship?
Mr. Sanjay Aggarwal
Medical is a different because hum yeh kah sakte hain, ki medical mein they get the experience of operation. Hum ek example dete hain ki no doctor can operate on just reading the books. Book padh ke koi operate nahi kar sakta. Aur jab tak woh 10 baar, 20 baar, woh mahol ko, atmosphere ko feeling me na le aaye, ki mera operation theatre mein jana hi sabse bara point hain, aur phir usko scissor haat mein dena aur operate karna, that is a experience. But in articleship because our area is wide, kyunki doctor mein limited area hota hain, ki apko heart ka operation karna hain, may be body ke is part ko operate karna hain, to woh area limited hota hain. Our area is too wide, that's why one limitation is there, but its not dominate to us.
CA Nikita Jain
But don't you think sir, i am just suggesting that because of the theoretical and practical aspect going together we have a problem?
Mr. Sanjay Aggarwal
Bilkul, there is a difference between a theoretical and practical, but we try to fill up the gap, with these examples now we are trying ki hum ek package banaye students ka aur unko company mein leke jaye, ki bete these are the raw materials going to proceed in the machine and how it becomes a finished goods. While they see the process, they can understand, this is material, this is this, kyonki hum kahte ek simple sa, ek student ko chai banani sikhani hain, to usko batayenge ki beta pehle ye le, pehle ye le, to imagine karega ki pehle kya lu, but woh ek pehle chai banti dekh lega to usko samaj me kuch ayega. To woh ek area hain hum soch rahe hain khatam karne ki.
CA Nikita Jain
Because i feel if we do something like this, that practical training is kept aside.
Mr. Sanjay Aggarwal
Practical training to ek different phenomena ho gai na aur phir kya hota hain ki ek matter of chance hota hain ki hum kiss chartered ke pass ja rahe hain, uske pass kitna kam hain.
CA Nikita Jain
And which kind of work basically!!
Mr. Sanjay Aggarwal
Which kind of work they are doing, which audit they have to, ho sakta hain unke pass manufacturing ka audit ho sakta hain ya na ho, to jo kam unke pass nahi hoga woh hum lack rah jayenge.Yeh to ek hain par phir bhi, ki hum kahte hain ki, gold to pressure main hi banega, to pressure ko leke hi humein chalna chahte hai aage hum kahna chate hain ki no one is perfect..
CA Nikita Jain
Coming to the economy part sir, what would you like to say about the Satyam Fiasco, and whether ICAI is doing enough on that?
Mr. Sanjay Aggarwal
No comment.
CA Nikita Jain
Sir,little bit.
Mr. Sanjay Aggarwal
No comments, due to limitation. That is on, i think they are doing their work. Due to limitation, i think its not an apparently everybody say they are not doing anything, but its not correct. Aise hum ghar pe bhi kahte hain, father isne galat kiya, aapne saja nahi di, but aisa kahna galat hota hain, ho sakta hain kuch aur soch rahe ho. It will take time, apparently but we feel is not true, jo humein lagta hain, ho sakta hain aisa na ho. Apparently lagta hain ki sahin nahi hain, ha but kuch samay baad ho sakta hain ki true. Toh woh kam unpe chodh dena chahiye..
CA Nikita Jain
Sir, on 19th May 2009, an important announcement on transfer of article was released stating "The coaching classes shall not continue after 9.30 am or start before 5.30 pm, so as to enable the article audit assistants to concentrate wholly on practical training. Members of the institute who are engaged in coaching are advised not to undertake coaching between 9.30 am to 5.30 pm". Sir, how much has this affected the coaching class and the students?
Mr. Sanjay Aggarwal
It will affect because in two hours, we are not able to deliver our lecture that is linked practical. We are trying to understand, we are trying to trying to influence the institute that we are not only giving coaching, we are providing a seminar, which will relate practical as well as theory. Its also a part of articleship, its also a part of their practical training. We are trying to influence them by these. Its not possible to give a lecture in two hours..
CA Nikita Jain
Sir, this is a new concept, the kind of thing you said, its a kind of seminar and its a kind of practical training. I think in teaching you do a lot of practical examples, which is very important taking anything practically. Also, one more notification has been issued by ICAI changing the courses recently; a lot of notification has come. First they had shifted to PE, then they shifted to PCC and so all this. What do you think?
Mr. Sanjay Aggarwal
I think its not a matter because the course are not changing only the name are changing. They feel its better because changes are always better, tradition is not better, wohi agar hum kahte hain humare drawing room me sofa set hain, usko aise nahi aise rakh de, to changes me kuch to effect ayenge, positive and negative. But changes are always better because they not changed the course content, they have changed only the name, that no impact.
CA Nikita Jain
But also the ban on transfer?
Mr. Sanjay Aggarwal
One thing they do better accounts, they have 200 marks, right now but utna hi syllabus abhi tak woh 100 marks mein padhaa rahe the, but that is too lengthy. To students kuch na kuch chodh jata tha, but now the student prepare that content for 200 marks, that will be fruitful for the student. Now they are doing like that for other subjects also one by one.
CA Nikita Jain
But a lot of students have come out of this course because of this. We have made a survey here.
Mr. Sanjay Aggarwal
Koi bhi abhi here, just we introduce after one or two, three year, exact data comes, then we can say also..
CA Nikita Jain
So what you would like to say to our students about your subjects like costing, OR. How should they plan to study?
Mr. Sanjay Aggarwal
They should revise only their subjects with concepts and then doing the practical thing. The main recognise they are doing the audit of the answer. What we feel, they are doing the audit of the answer, ki thik hai sir, this one come from here, this one cannot come from here, and they don't know where it goes. They can capture the subject in every note for costing while they are carefully dealing their concept and applying them with their own handwriting on their books, then they can understand what is the bottlenecks and what they feel its not possible for understanding them. They can do it only when they write on paper, books but not doing only audit.
CA Nikita Jain
How much is the part of concepts in costing than solving of problems. What is the percentage?
Mr. Sanjay Aggarwal
First they understand the concept, like they understand the material, they understand what is direct material, what is indirect material, they understand what is indirect material to be uncovered in overhead. Unless until they understand, how can they write overhead and variable overheads. If they understand variable costs and variable overhead same thing, it means they are doing wrong way. So they have to understand very concisely the concepts.
CA Nikita Jain
Do you think 60% understanding is of concepts?
Mr. Sanjay Aggarwal
And 30% is of english language because they read the language and stop only when the figure is there. They are not understanding, the company is producing, the company produces, the company will produce. They are not concentrating on that. My main phenomenon is on that. jab tak hum ye nahi samjhenge ki company ne bana chuka, ya company banaigi, ya company bana rahi hain, jab tak yeh nahi samjenge we are accepting an offer, thik hain woh samjhenge offer hain isko aise aise karna hain, because they have done many questions like that. To woh humain samjhana parta hain ki language pe dhyan do.
CA Nikita Jain
Sir, last we are reaching around two lakh members in our CAclubindia by tomorrow, would you like to say anything to our members? We would be glad to hear from you.
Mr. Sanjay Aggarwal
Members sab ke liye bilkul, increasing hai that is ok, positive sign hain, growth sign hain, growth sign is always better.
CA Nikita Jain
So you have seen the website sir ? So anything you would like to say we should improve or any feedback?
Mr. Sanjay Aggarwal
Improvement is better , when we compete ourselves it is better. Nobody is our competitor, we self is our competitor. If we did well than before than its ok, we are increasing, growth is there. If we adopt traditional then that is a full stop.
CA Nikita Jain
So without change there is no growth basically. Thank you so much, Sir.
Mr. Sanjay Aggarwal
Thank you..
Comments on this Interview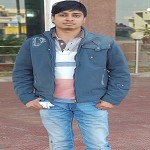 SAURABH
[Scorecard : 72]
31 December 2014

" sanjay sir is the best in world..... "


sandeep gupta
[Scorecard : 30]
24 August 2013

" sanjay sir is the best,dont go on slang in the language,this is simply insulting him,his concepts are great and unmatachable "


ruth
[Scorecard : 20]
17 July 2011

" Hi, am Ruth Sayid i hope you are in atmosphere of peace and love.It was very great to me when i found your profile in my searching for a responsible and reliable person to have a good friendship with and I fond a great spark in my heart despite that I have not seen you in person, but there was a feeling that really gave me a nice pleasure to communicate with you and see how the sun will shines like,am willing to be your friend and here is my email address which you can contact me (ruth121_sayid@yahoo.co.uk) and after that i promise to send you my picture in my next mail for u to know who i am, and how i looks like , ruth121_sayid@yahoo.co.uk "



TIK@M GUPT@
[Scorecard : 320]
01 December 2010

" he is gooddddddd teacher "


CA Saurabh Kataria
[Scorecard : 68]
14 August 2010

" sir you are the best teacher. "


Vikas Mehta
[Scorecard : 20]
25 March 2010

" Hi, this is vikas mehta , it has been a great time to read ur interview sir. It is really inspirational how a great teacher and professional teacher comes. "



Raushan Pankaj
[Scorecard : 124]
25 December 2009

" 'thanks Sir" "



Nayan Medic
[Scorecard : 297]
22 August 2009

" thank u sir "



jassy
[Scorecard : 95]
28 June 2009

" its been great feeling by listening to ur interview.wat students actually facing in their regular schedule and clash between articles & classes, it wld b definitely beneficial to most of the students. thank u very much sir and also CA Nikita jain "



barkha
[Scorecard : 88]
28 June 2009

" thankss..sir "