A conversation with

Roohi Aggarwal
1st Rank Holder, CA Final (New Course)
Member of CAclubindia
Audio conversation :





Enjoying her status at the top yet humble as an innocent student, is what one would find contradictory in this brilliant girl. Ms Roohi Aggarwal, is living her dream which she saw while studying in class 10 and since then, heading towards this target, which she achieved just 2 days back. With the warm smile, she thanked her teacher, who not only taught her the subjects in an interesting way but also showed her the opportunities she would get once she would be a Chartered Accountant. Practical exposure and wide array of subjects to learn were the aspects she wanted in the field she would choose, so CA came as a perfect combination. Her fixed time table included 12-14 hours of study a day, but since she always stressed on time management, getting time to listen to music and catching up with friends was not a big deal. "Time management and hard work can get you anywhere", as suggested by our all India Topper Ms Roohi Aggarwal.

Proud member of CAclubindia, she is grateful for the help she got from the website, she said "It helped me a lot. I got clarity on many subjects and areas, it was as easy as writing your thoughts there and views of the experts would resolve each and every doubt you have. I got many concepts in summarized format, updates, new amendments, discussions, expert advice on everything that confused me, altogether helped me to sail smoothly without facing any hurdle."

She believes that no matter how difficult the journey is, one should focus more on motivating aspects for strength. Before hitting the finance sector, CA Roohi Aggarwal is looking forward to the big party and the celebration she would have with her proud parents and friends.

Why not? Our topper definitely deserves a big celebration after the long journey of uphill work.

Hi roohi!


Hi

So, how you are feeling?


I am very happy, it's like a dream come true like all efforts well paid off!

That's nice and what was your reaction seeing your scores?


My first reaction was to thank everyone who helped me, so I just called up everyone to tell them about my results and cherished their wishes.

It's nice and how big is this achievement for you?


I am very very happy, so much of hard work was there and now so many people from all over India congratulating me and my family. My family is so proud of me and my relatives are also happy for this.

Yes must be a proud moment… and when did you decide that this is my future?


Actually, I wanted to emerge in practical exposure and in CA course you get an exposure of different subjects. Different areas & side by side article ship to know the application of those subjects, I did not plan to go for a regular B.COM or MBA. I required three and a half years, so that I can join this course get the practical exposure, get to know different companies and audit them, while doing that I can get basic fundamental laws. There is so much to learn in this course, especially time management so I knew that this is what I want.

Right... so just after 12th standard, you decided to do CA .


Yes

So who guided you?


There was my Accounts teacher in 12th class, she taught me this subject in such an interesting manner that I got indulged in the subject, which made me feel to do something in this subject only, then she introduced me to some aspiring CA's. I got to know about the CA course and what opportunities you have after clearing the course. It requires a lot of hard work which i thought I could do, put that hard work so i decided to join CA.

Surely you deserve it and now you are at the top!!!

So tell me how you achieved this, what was your timetable when you were preparing for your exams?


I was doing my articleship training and decided to go for the coaching classes. I got the preparation leaves. That time the clients were prevalent, there were times when I got the lead. I completed my coaching for all the subjects, I used to study two subjects daily, one theoretical and one practical for revision. I delegated my time and managed it properly, like number of days a topic of a particular subject can be completed.

In a day how many hours you would study?


12-14 hours, this was the only way to acquire such a rank with all the hard work. (Smiles) After 3-4 months of hard work there is a time to enjoy!!!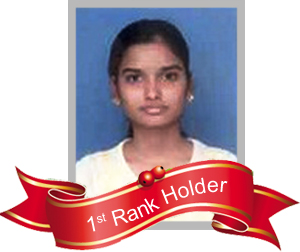 Tell me about your strategy to get such great scores?
Analyzing which subjects you like. First thing is to complete all the subjects thoroughly, plan to make at least 60 or above marks. The main task was to pass the course and then only can aim for the rank. Then comes the difficult part, out of 100 marks 20% or 30% marks would be difficult to get, since they are from the part of syllabus which you have never read. I always focus on the areas which would definitely come and side-by-side kept the non important questions in my time table to keep a balance approach.
Any hurdles you faced while doing all this?
Mainly was the time management because you have to go for your training and then coaching in a day, and then travelling time with that you need to learn and keep proper time for both the things.
Who was your greatest support, would you like to thank someone?
Many were there, like my teachers who suggested me good books.
Are you a member of CCI?
Yes
What help you have got from our CAclubindia?
It helped me a lot. Some different areas are there. If you have a doubt, post it there, get views of some people especially in calculation and all. Because in books, provisional form is given and in CCI you get them in summarized form. Many posts are there and then all recent updates are there. What are the amendments and what are the changes been made, lot of information is there. Some books, some points are there with different perspectives. In resolving my queries it helped a lot.
How was your overall journey till today?
There were many things like in between PCC was there. Sometimes you have to manage class timings. Teachers will be teaching in different timings. Sometimes you might get stuck, so at that time it disturbs you but after that there are the things which motivate you. So I always focus more on motivating aspects which gives me strength.
Since there are so many topics to cover while preparing for CA so what is that one thing that one should keep in mind?
Proper time management, as the syllabus is huge so it's better to do proper time allocation for each subject. What all areas you are going to cover and as you get only one day before exams so instead of learning, understanding the concept is more important because if the concept is clear then you can write it on your own.
Besides studies, what do you like to do?
Talking to my friends, listening to music and solving some practical problems are the things I like to do.
So what is the next plan for u?
That is what I have to plan. I am basically interested in finance sector and would like to join a company and get involved in finance sector.
So, do you have any message for CA? 
Dream to become a CA & then lot of hard work is required… plan out everything properly.
After knowing your result, your friends must be very happy. So any plans to celebrate? 
Planned for a big function... calling out some friends & colleagues.
So, u must be excited! 
Yes
That's great!!! It was very nice talking to you and I would like to congratulate you once again and thanks from CCI.
Thanks!!