The era of implementation of Ind AS had begun in the country from 1st April, 2016 onwards for certain class of companies. In fact, Phase I companies have already started to publish their annual reports prepared in accordance with Ind AS. Under Phase II, all listed companies and companies having net worth 250 crore or more but less than 500 crore, began implementation of Ind AS from 1st April, 2017 onwards and Banks, NBFCs and Insurance companies would be required to comply with Ind AS from 1st April, 2018 onwards.The Council of the Institute of Chartered Accountants of India, while appreciating the emerging diversities and complexities in the world of accounting and the need for knowledge of IFRS converged Indian Accounting Standards (Ind AS) is conducting Certificate Course on Ind AS ( Indian Accounting Standard) to get the members ready for proper implementation of IFRS-converged Indian Accounting Standards (Ind AS) and to ensure that implementation of Ind AS is smooth and effective in the country.
Introduction of the concepts of Ind AS
Dissemination of knowledge on Ind AS
Comparison of Ind AS with IFRS
Issues in relation to Ind AS
Conversion of Financial Statements prepared on the basis of Indian GAAP to Ind AS based financial statements.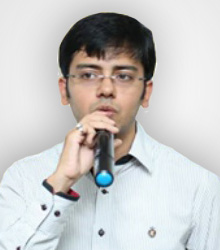 Chartered Accountant by Profession, CA. Sumit Sarda has been teaching CA Final since 2011. He was a Faculty member also at ICAI Nagpur Chapter for IPCC Cost Accounting and CPT Statistics and also a faculty member for CA CPT Statistics at G.S. College, Nagpur. In the Span of 7yrs. he has taught more than 3000 students.
Total Length of Videos: 134 Hrs
Expiry: 6.0 months or 335 hours of viewing whichever is earlier from the date of registration
Videos are meant for web viewing only and cannot be downloaded. Videos are available in Full Screen viewing
Course/Subject purchased once cannot be cancelled
Enroll now