In layman's language, "Input Tax Credit" ('ITC') means that "taxpayer can reduce his output tax liability to the extent of GST paid on procurements".

But is this concept that straight!!! The concept of ITC was supposed to be the simplest one viz. GST on every procurement should have been eligible for ITC. On the contrary, this has been an area of utter confusion for a taxpayer. This is because of multiple reasons ranging from several provisions governing the eligibility, restrictions, reversal of ITC in special cases to time limit for claiming ITC and so on. Even for the Government, this is a revenue garner, every denial of ITC adds to their tax kitty. It is not surprising that prior to introduction of GST as well, CENVAT / Modvat has been the most disputed area in Indirect Taxes.

We all believe that –

"…Pearls don't lie on the seashore. If you want one, you must dive for it…!!"

Sometimes interpreting the law differently, opens the closed doors for taxpayer. Still wandering how…let's take an example:

Register now Rs 1499/-
What do you think is the time limit for taking Input Tax Credit pertaining to FY 2017-18?
The Press Releases issued by the Government, suggest that the time limit for taking ITC for FY 2017-18 was due date of filing of GSTR-3B of September 2018 i.e. October 25, 2018. This date was subsequently extended to due date of filing of GSTR-3B of March 2019.
Interestingly, this view of the government is not correct. The last date of taking credit under Section 16(4) is the date of furnishing of annual return of FY 2017-18. As the government has deferred the due date of furnishing of annual return and a taxpayer has not filed the same, ITC can be taken till such extended date i.e. November 30, 2019.
It is advisable that the taxpayers avail ITC for FY 2018-19 in GSTR-3B of September 2019 (to be filed by October 20, 2019) to avoid any disputes.
There are other interesting questions to ponder:
GST laws bars credit on 'beverages'. Is drinking water a 'beverage'? If not, ITC on drinking water will be available.
GST law barred credit on 'rent-a-cab' service till January 2019. Are all situations of transportation of passengers, will be dis-entitled for ITC?
Indeed, ITC is a thought-provoking concept. Above example just marks the beginning of our discussion…as the saying goes "पिक्चर तो अभी बाक़ी है मेरे दोस्त !!!" There are more and more interesting issues to be pondered under ITC.

To have an in-depth legal and practical understanding about the topic, please join us in a 2 part live interactive webinar with a renowned expert in Indirect Taxes – Mr. Puneet Bansal (Managing Partner, NITYA Tax Associates).

The webinar will be held on November 16, 2019. It will be a 3 hours interactive session, covering the complete concept of ITC and an extensive discussion on the practical aspects, including a dedicated Q&A session at the end.

Coverage: we will cover all legal provisions regarding 'eligibility' and 'applicable restrictions' on ITC, along with illustrations and legal precedents.

we will cover all legal provisions on 'conditions for availment of ITC', 'time limit for claiming ITC' and 'reversal of ITC', along with illustrations and legal precedents.

Note: The session will cover all amendments in law pertaining to ITC till August 2019.
Register now Rs 1499/-
---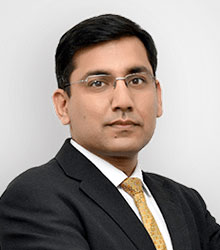 CA Puneet Bansal , has over 20 years of experience in advising leading Multinational and Indian companies in setting up operations in India, structuring business models and supply chain, optimizing tax exposures and contract reviews from the perspective of Indirect tax laws.
Puneet has a rich experience in litigation and has successfully represented clients' interests before various judicial fora across India.
Puneet regularly addresses seminars/ workshops across India on diverse Indirect Tax issues. He actively contributes articles on emerging controversies on renowned tax portals.
Prior to starting NITYA, Puneet was a Partner with BMR & Associates LLP and Lakshmikumaran & Sridharan in their Indirect Tax practice.
Puneet is a member of the Institute of Chartered Accountants of India, having held All India merit position in CA Final. He also holds Bachelor's degrees in Commerce and Law.

The recorded session will be provided
Total length: 3 hrs (approx)
Viewing times: 6 hrs or 1 month whichever is earlier from the date of registration