What Will I Learn?
You would learn the basic nuances of criminal law procedure and how to navigate your way through Cr.P.C. You would also learn Practical application of all the important provisions of CrPC that are indispensable for any aspiring criminal lawyer. You would get hands on practice on drafting application/petitions/ complaints etc. viz. Bail Applications, Criminal Complaints, Misc. Applications. You would also learn how to prepare Arguments at the stage of charge, bail and other stages.
What does the course include?
The course is a live class for 7 hours based upon downloadable study material would be provided to all participants. The material shall include:.
100+ judgment – their analysis & summary.
brief notes
sample drafts and practical assignments
recorded videos on some important topics
The participants shall also be given downloadable drafts of all the documents that the trainers shall give advice and tips on how to draft
The students shall also get an assignment to attempt after the course which will include MCQs and drafting assignments which shall be checked and graded and feedback will be given on individually
Performance based: The top five (5) student -participants will be offered internships with top criminal lawyers in Delhi, Mumbai, Punjab, Haryana, Bangalore. They would also get a complementary course on drafting from LCI
E-certificates to all the participants
kits from LCI.
All the participants shall also get a X1.5 recording of the lecture with a validity of one month.
Who is this course for?
Combination of Theory + Practical Application.
Young practitioners looking for proper training and guidance in Criminal Practice and Procedure.
Any young practitioner looking to add a few new skills to their existing practice.
LCI believes in adding real value to the careers of all the legal professionals and so has designed this masterclass to be a package for those who actually want more than just insight into 'How to acquire and what skills to acquire to be a successful criminal lawyer'. We believe in making the course value for money for all the participants.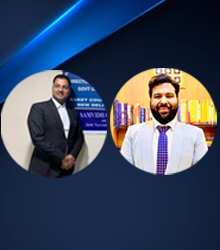 A graduate of National Law School, Patiala A legal professional an experience of over a decade almost 5 years as a Public Prosecutor with expertise in various penal laws.
The duty of the Public Prosecutor is to represent the State and not the police. A Public Prosecutor is an important officer of the State Government and is appointed by the State and is usually attached to a particular set of courts and thus gets more hands-on experience than other litigating lawyers. Mr. Bansal has been practicing criminal law for over a decade now and is an expert in procedural aspects of Criminal law.
Prosecutors usually deal with 20+ cases every day and hence get vast experience in dealing with variety of statutes and highly variable cases. He would be teaching the procedural aspects of Criminal law in the course and is an expert trainer given his experience as a defense counsel as well as a prosecutor.
During his law school days, Mr. Bansal had represented his alma meter in for William C. William Arbitration Moot Court at Hong Kong and had also represented the law school in Boston, USA for Parliamentary Debate. He has presented a number of papers in numerous seminars all over India.
Mr. Gaurav Goyal- Partner (Litigation & Dispute Resolution) at JKGA Law Chambers. He is also admitted as a Member with the Chartered Institute of Arbitrators. He holds the position of Member, Governing Council with Society of Construction Law, India. Mr. Goyal is also a mediation advocate/advisor certified by the International Mediation Institute (IMI). He is a trained Conflict Consultant and Negotiator.
He pursued his law degree from USLLS, GGSIPU, Delhi and during his law school he interned with various senior counsels and Hon'ble Judges of the High Court of Delhi. He also pursued Master of Laws (LL.M) from the University of California, Berkeley after a couple of years of practice.
He has a wide experience in representing clients in criminal cases and has either appeared before various for a for private and corporate clients. His expertise is preparing defense strategy for his clients and to chart a course/road map for the entire case.
Mr. Goyal over the 7+ years of his practice has represented wide variety of clients ranging from PSU(s) and private parties in all the courts/tribunals in Delhi and outside in cases ranging from commercial to corporate criminal liability. His firm is currently empaneled with Reliance Industries Limited (RIL), Union Bank of India & Central Bank of India. He has represented clients such as Airtel, MTNL, BSNL, CSIR, Indian Tourism Development Corporation, Punjab National Bank, Canara Bank, Indian Council of Medical Research, Fortis Healthcare, The State Trading Corporation of India Ltd., Indian Trade Promotion Organization, Hotel Association of India, Guru Gobind Singh Indraprastha University, Omaxe Group and many more prominent companies and/or individuals.
He has been regularly appearing before the Supreme Court of India, High Court of Delhi, High Court of Punjab & Haryana, District Courts of Delhi, Gurgaon & Faridabad, NGT, DRT, Commissioner of Appeal Income Tax, CESTAT, CCRA, NCDRC, State Commission etc.
Total Length of Videos: 7.8 Hrs
Expiry: 2.0 months or 20 Hrs
Videos are meant for web viewing only and cannot be downloaded. Videos are available in Full Screen viewing
Course/Subject purchased once cannot be cancelled.
Buy now