Hey friends - A very good evening to all the members of CCI family .....!!!!
Today i thought to bring something different from mine usual taste. This post is just to bring out some specialities in food in india. It will relax your mind as well as will make you eager to try different taste of India. So lets go for it -
Delhi - Being a place like delhi, peaple are found of Dal makhni, choole bathure and all the spices of life.
2. Kolkatta -
Kolkata has long been known for its literary, artistic and revolutionary heritage. As the former capital of India, Kolkata was the birthplace of modern Indian literary, artistic and scholastic thought. Kolkatans tend to have a special appreciation for art and literature; its tradition of welcoming new talent has made it a "city of furious creative energy"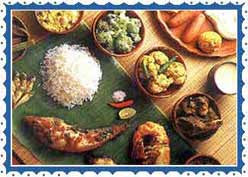 3. Kashmir - The Jammu and Kashmir food is influenced by the cuisine of the various communities that have settled in the state. The food is rich in aroma and flavor and presents a varied banquet of delicacies in vegetarian and non-vegetarian food.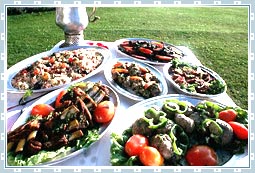 4. Rajasthan - One of the bestest and yumiest food is found in Rajasthan.
During your cultural tours to Rajasthan, North India you get an opportunity to taste the excellent and varied cuisine prepared in Rajasthan, North India. Every region in Rajasthan, North India has something special to offer. Rajasthan or the land of the royalty has had a long tradition of exotic cuisine. Cooking in the royal kitchens in the days of Rajput glory was a huge affair. Several cooks would work together to cook the most delectable, spicy and delicious dishes.
Cooking in Rajasthan, North India has always been treated as an important art form and is an important part of Rajasthan's culture.
5. Punjab - (Punjabi: ਪੰਜਾਬੀ ਪਕਵਾਨ, Urdu: پنجابی پکوان punjabi pakawan) is food from the Punjab region of northwestern India and eastern Pakistan. It can be non-vegetarian or completely vegetarian. One of the main features of Punjabi cuisine is its diverse range of dishes. Home cooked and restaurant Punjabi cuisine can vary significantly, with restaurant style using large amounts of ghee, clarified butter, with liberal amounts of butter and cream with home cooking concentrating on mainly upon preparations with Whole Wheat, rice and other ingredients flavored with masala. Roh Di Kheer, is cooked using rice. Rice is cooked for a long time in sugar cane juice.
6. Gujrat - The traditional Gujarati thali mostly encompasses rotli, dal or kadhi, sabzi also known as shaak and rice. People in Gujarat eat one or the other type of curry along with rice and roti in almost every meal Gujarati dishes usually have a very subtle taste that makes it truly distinct from other Indian cuisines. Lot of emphasis is laid on maintaining hygiene while cooking. Most of the Gujarati dishes are sweet, while others have a quite larger concentration of sugar as compared to salt and spices. Sometimes, jaggery is used as an alternative to sugar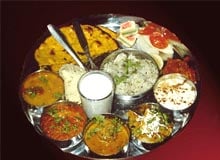 \
7. Pune -
The local cuisines of Pune retain the typical taste of coconut and garlic. At the same time, a large amount of green chilies are used, making the dishes quite spicy. The main course in the traditional food of Poona comprises of a number of food items made up of jowar and bajra. If you are planning to visit the city, do not forget to taste the sweet specialties of the city, especially chewda, bhakerwadi and pedas.

A typical Pune meal comprises of the following items.
Puran Poli (a sweet paratha with pulses/dal)
Amti (masala dal)
Pithla Bhakri (masala chickpea gravy with a stiff roti)
Varan Bhat (dal and rice)
Matki Ki Usal (masala sprouts)
Thali pith (a spicy chickpea based pancake)
Alu chi Vadi (steamed and fried potatoes)