Must Attend for CFO's, CXO's and Business Founders
About The Event
The Advantage Dialogue - CFO Confluence is powered by Taxmantra Global and CAclubindia.com. We invite thought leaders over open-dialogues to share valuable insights that help businesses grow. TAD has engaged over 100 founders and 30 thought leaders across India, Singapore and USA.
Date: Saturday, 22nd Sep 2018 | Time: 09:00 AM to 02:00 PM IST
Venue: WeWork, Block L, Embassy TechVillage, Outer Ring Rd, Bengaluru, Karnataka 560103
About Dialogue 1:
Fintech and blockchain are impacting GRC. Business leaders want increased efficiency, transparency and overview. This session is designed to share how fintech and blockchain are creating new growth for businesses of the future. We will give special emphasis on the changing role of CFOs and how CXOs are gaining from technology too.
About Dialogue 2:
With the background of recent multi-billion dollar M&A in India, is startup funding back in action in India across all levels? We are excited to host Mr. Natarajan R. COO and CFO, RNT Capital Advisers over a powerful dialogue.
Agenda:
9:30am - 10:00am: Registration open + Early networking
10:00am - 11:30 am: How is fintech and blockchain impacting GRC and how does it make the founder/ CXO's focus on growing business and not worry about financial discipline.
Speakers: Alok Patnia, Harshvardhan Kariwala, Rahul Agarwalla. Vivek Jain, Praveen Sharma
11:30 am -11:45 am: Tea and Networking
11:45 am - 01:30 pm: Is spring back in funding in the Indian entrepreneurial ecosystem? Key insights for entrepreneurs.
Speakers: Alok Patnia, R Natarajan, Kalpana Dubey, Moderator: Paritosh Sharma
01:30pm - 02:00pm: Networking
Speakers: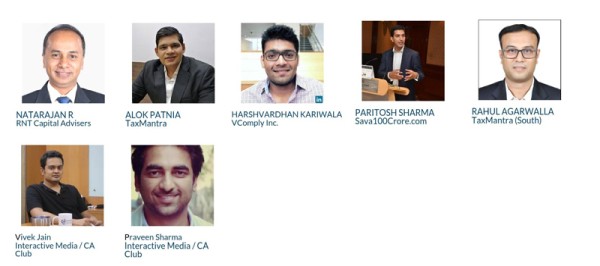 Alok Patnia, Taxmantra.com
Rahul Agarwalla, Taxmantra.com
Harvardhan Kariwala, VComply
Rahul Agarwalla, Taxmantra.com
Paritosh Sharma, Sava100Crore.com
Vivek Jain, Interactive Media / CAclubindia
Praveen Sharma, Interactive Media / CAclubindia