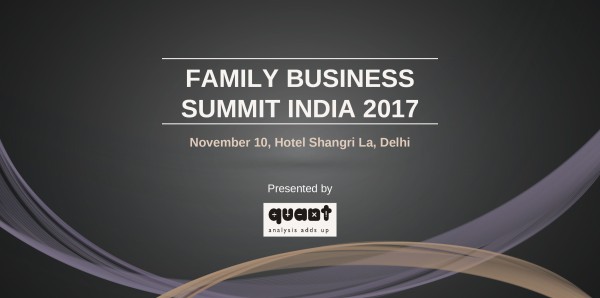 AIWMI is delighted to announce the Family Business Summit India (FBSI17) on November 10, 2017 in Delhi.
The family business is the most frequently encountered ownership model in the world and their impact on the global economy is considered to be significant. When defined as businesses that are majority-owned by a single family's members, it is estimated that the total economic impact of family businesses to global GDP is over 70%. However it is in emerging and developing countries where dynastic companies have been found to be the most important.
AIWMI's inaugural Family Business Summit offers family business owners an exclusive platform to discuss the most pressing issues they face today and to be inspired by some of the most successful family business leaders from across the country. This Summit promises to be the place where entrepreneurs from multi-generational businesses and those building a legacy for their next generations come together, celebrate and regroup to plan their future.
AIWMI has developed an agenda that includes keynote sessions, panel discussions, private meetings and plenty of networking. We believe that our speakers, panelists, and thought leaders will equip you with the knowledge and inspiration you need to fully unlock the growth potential of your family business. Effective leadership, family governance, philanthropy, next generation engagement and family office are up for discussion.
Come and join more than 200 family business owners from all over the country to expand your network. Be inspired as you discover how you can make sure that your business is one that succeeds for generations.
​​​​​​​
Avail 25% Discount on the current price of Rs.5900 until October 15.
PROMO CODE- AIWMI@25

​​​​​​​