Technology has revolutionized our life in different ways. Cost to access information has almost hit rock bottom. The whole information technology revolution has changed the way we live, work, communicate, and everything else we do. It is really hard to find some tasks where technology is not involved at all. Every profession now uses technology to bring in efficiency and deliver better quality to retain customer, enhance profitability and expand business. The profession of auditing is not to be left behind. The last few years and especially post-Covid era has only accelerated the auditors to adopt technology in various tasks. As they say, 'necessity is mother of invention'; when auditors faced challenge with large amount of data to be verified, validated and reported on within a given timeframe, technology had to be roped in.
Audit Objective
The objective of the auditor has been changing over a period of time in response to the business, industry, regulation, compliance, etc., Auditor in name and form, call them as internal, statutory, tax and so on, the objectives are either governed by law or by the scope of engagement. There are lot of expectations from auditors to be proactive, raise red flags, possible discover fraud, help management to take meaningful decisions and ensure the stakeholders interest is protected. The role of auditor also needs to be viewed from the fact that the technology has helped business to grow manifold and transactions are now done online with almost no paper trail. Right from placing the order to tracking your request and payments, everything is digitalized. And when things are really so quick, the number of transactions also grow phenomenally.
How would technology help?
You are doing audit of a food delivery business how many samples would you consider for vouching where the numbers could be even close to a million per day, or you are entrusted to audit of a bank, consider that the transaction could flow from mobile applications, other online devices, ATM, drop-in at branches etc., how would you be satisfied with authentication procedures or in a large manufacturing company you have thousands of inventory parts being inwarded and used, in all the cases it would be humanly not possible to do a 100% check. Even a sample check may not be to the satisfaction of the auditor. Though the Standards of Auditing allow to do a sample check and prescribe the criteria to select it, how satisfied would one be doing a sample check of few transaction and a very large part of it remaining untouched and therefore having an audit risk of not being able to identify or observe any material discrepancy. There is now lot of emphasis on ensuring that the technology prevents or detects control failures and auditors rely upon such controls in their engagement including evaluating the control environment. Technology will help the auditor to verify the transactions in a pre-defined manner and bring out a report on any outliers instantly.
Let's take five examples and see how technology impacts audit. This article gives only a very macro-level or example of how technology has influenced audit. Following are some of the technologies we should be aware of.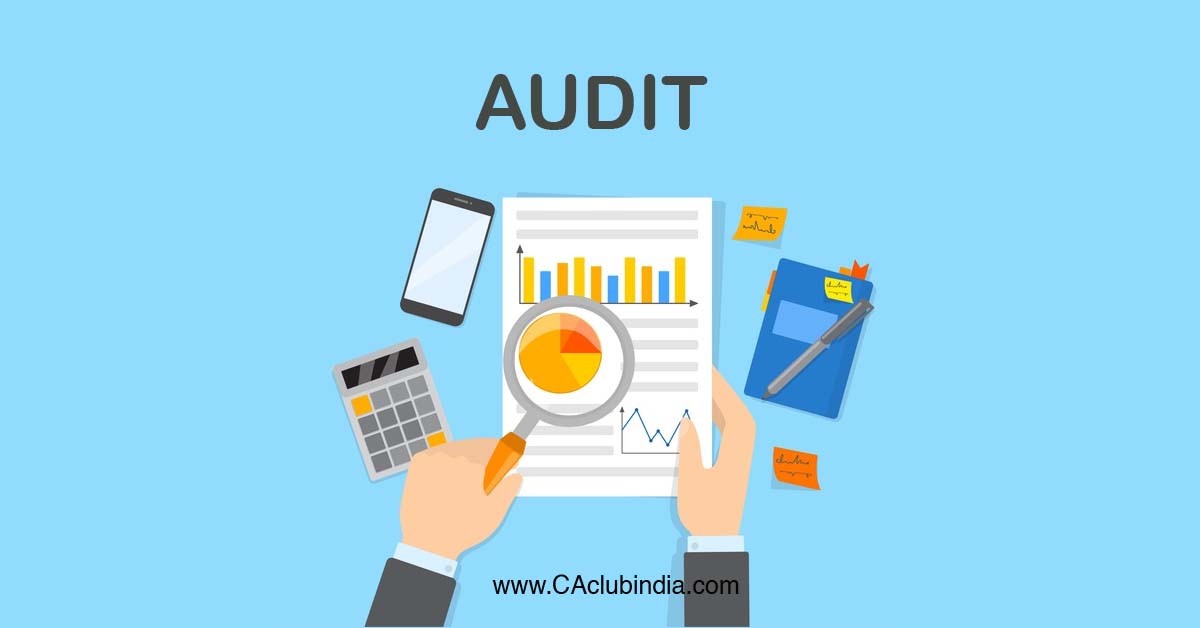 Machine learning (ML)
Well, welcome to training machines (apart from the article assistants!). ML uses models to perform data analytics to understand how the data is constructed and also helps in possible outcomes. There is significant number of statistics and mathematics that get into ML. The good thing is the machine keeps learning based on it's experience of processing data, either in a supervised or unsupervised manner. This experience helps the machine to deliver better results which aims to be far more accurate and relevant. For example, ML can be used to analyze journal entries, which are either incorrect, highly unlikely, unauthorized entries by a designated personnel or entries over a particular level being passed by overriding the system, etc., ML can help the auditor to scan through all the journal entries with as many parameters possible which anyway would have been used in a manual environment. This helps the auditor to know the outliers very quickly. This helps the auditor to reduce the time on certain mundane tasks and focus more important aspects like on how to handle risk of outliers, impact on financial statements, etc.,
Natural Language Processing (NLP)
I would strongly urge the readers to look for how COIN ('Contract Intelligence') helped JP Morgan to review documents. Yes, using NLP helps in areas like contract reviews, agreements, invoices at a rapid pace and give accurate results. NLP also extends to machines trying to understand even unstructured information to some extent. But using ML, over a period, it would be able to constantly give better results.
Robotic Process Automation (RPA)
RPA entails a bot or software application which can be designed to performed certain basic tasks that were done manually, and no conceivable value addition was expected in the process. Say, verification of all the goods in warded with goods receipt note and purchase order or invoice. RPA can be used to identify basic errors in data gathering, incorrect contents in a field, identifying any duplicate entries etc., Where there is large amount of data to be validated on certain parameters, RPA is the way to go.
Drones and Radio Frequency Identification (RFID): Well, now one does not have to worry about counting the stock which use to be prone to human errors at times. This is more advanced than the bar-code reader. RFID chips are placed at the lowest level of inventory. These chips also include transceivers wherein you can say that the location of inventory is known. This is also used in having control over fixed assets as well. RFID helps the business to know the stock levels on a real time basis and helps the auditor in physical verification, which would either wise would have taken days together and including stopping the inventory movement and business getting disrupted. Similarly, companies which are in business of say oil and gas exploration, mining, etc., use drones to do stock audit. Use of drones helped the auditors and the management to assess the volume of resources more accurately and in a scientifically acceptable manner, which may not have been so if done in a manual manner, which would not only be costly but could pose risking human lives.
Sky is not the limit! Well, even satellite images could also be used. Would encourage you to read 'Guidance Note on Usage of Remote Sensing Data and Geographic Information System for effective audits. (https://saiindia.gov.in/uploads/guidence_notes/guidanceNotesPracticeGuides-05f10744c088698-54461273.pdf).
Blockchain
This technology is bringing a paradigm change in the way records are created, maintained, and retrieved. It uses a very complex system of verification procedure to ensure integrity of data is maintained. Say, in case of vendor management, hitherto the internal controls were literally within the ambit of an organization. This might change in a blockchain world where it is possible that the internal controls may be with various other parties as well. How should then the deficiencies be addressed? How should it be reported? Who is the custodian of the data? Welcome to age of digital assets. These issues are being discussed not only by professional bodies, but the even the regulators are in the process of bringing in laws and regulations based on the technological advancements. To start with, as professional accountants, we are discussing on accounting of bit-coins.
Way forward
Auditors must and should go beyond knowing financial reporting standards, auditing standards, compliance to more on technology. We can no longer afford to have animosity towards information technology. It is the way of life and we have to align to the new age requirements, else we would be outdated, and our own survival will be challenged. I am sure we would see a new breed of auditors who are technologically superior and can give a new dimension to the audit. Going by the past, people thought computers would take away jobs, but it paved way to do more value addition work. Likewise, use of technology would make way to do more focused audit and we as professionals have now to find how we can add value to our engagements. We did in the past, we will continue to do it in future.
The author Aditya Kumar S is a qualified Chartered accountant with 20+ years of experience in his field. He carries immense knowledge in his areas of expertise and interest, namely statutory audit, internal audit and SOX audit gained through numerous and varied client assignments he has dealt with.
"Loved reading this piece by
Mrudula M,Co-founder-KaizenEdu
?
Join CAclubindia's network for Daily Articles, News Updates, Forum Threads, Judgments, Courses for CA/CS/CMA, Professional Courses and MUCH MORE!"
Tags :
audit