INTRODUCTION
The famous economic ryder 'Income - Savings = Expense' assumes relevance in this time of uncertainty. With loss of income being the daily news for people across the social strata, people who have been able to save in the times of gold, have been able to manage the uncertain tide to an extent. People at the lowest income group have suffered the most due to their inability to save with the income that they earn. The Keynesian theory of income, propagated by the famous economist John Maynard Keynes also stresses the importance of savings/investment from the perspective of economics and a nation with its postulation that Income (Y) = Consumption (C) + Savings (S).
In Part 1, we will look at the investment options that are available to a person employed afresh in an enterprise and receiving salary income. This write-up also focuses on popular investment products and does not cover speculative and share trading activities. While investment options are not entirely to be guided by taxation benefits, certain tax exemptions do promote investment opportunities. The relevant tax benefits are also discussed in the respective paragraphs.
1. PROVIDENT FUND CONTRIBUTIONS
Provident Fund contributions are one of the safest investment options available. Almost all first-time employees across companies will be enrolled in the provident fund programme. Usually the enrolment happens with the PF programme of Employees Provident Fund Organization (EPFO) of Government of India, though employers can opt to have their own. In EPF, both employer and employee are required to contribute a sum towards building up the retirement fund.
Tax deductions - All contributions to recognized PFs by the employee are given an deduction u/s 80C of the Income Tax Act in the year of contribution. Employers' Contributions in excess of 12% or interest earned in excess of 9.5% are taxable (which are almost nil as current rate of interest ranges between 7.5% to 8.5%). However care must be taken that the individual does not withdraw from the fund within 5 years of joining job in which case, entire amount would be taxed in his hands.
Where an employee has not opted for PF at place of employment, he has the option to contribute to Public Provident Fund established under the PPF Act, 1967 with specified banks and post offices. Similar to EPF, PPF contributions also qualify for deduction. Further the withdrawal and interest are also exempt from income tax. PPF accounts are subject to a lock-in period of 15 years, though partial withdrawal is allowed from 7th year for specified purposes.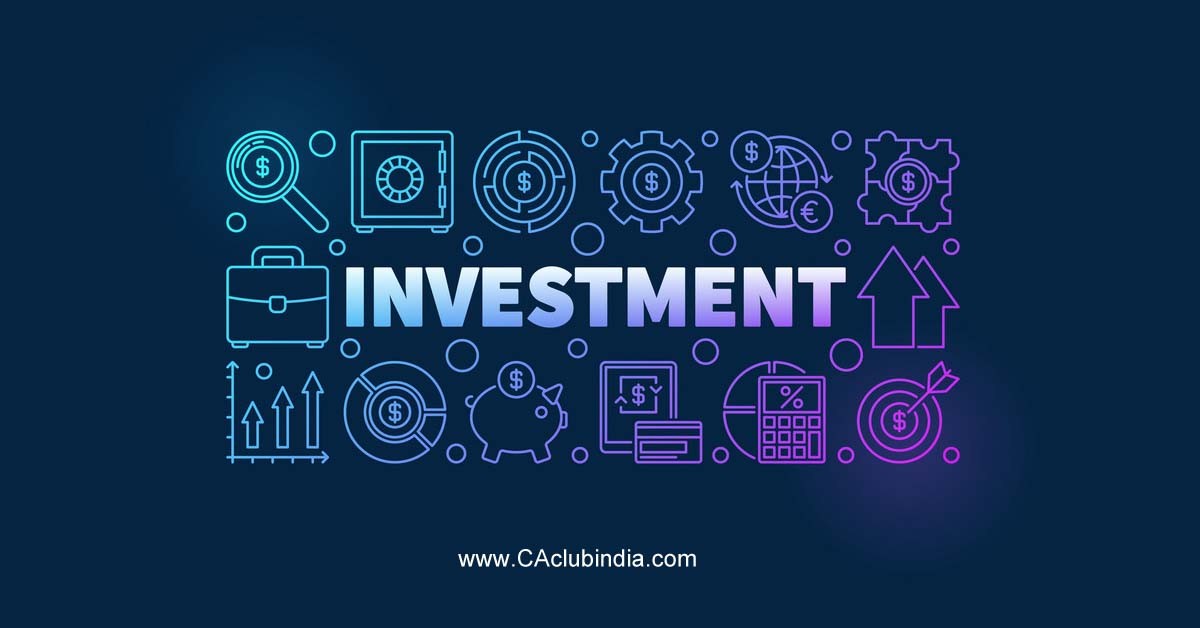 2. MUTUAL FUNDS
Mutual funds are gaining traction in India since 2016 as they are very well known to help create long term wealth. Mutual funds are risky in the sense that they are dependent on the performance of the stock market and are subject to volatility. There are different types of mutual funds however the commonly referred funds are Small Cap, Mid-cap and Large cap. MF Schemes that are offered as Equity Linked Savings Scheme (ELSS), qualify for tax deduction for the contribution/investment made subject to a lock-in of 3 years from the date of contribution. Other MF contributions do not qualify for any tax deduction however the longer period of holding does help reap benefits. On maturity/withdrawal/switch over to another fund, they are subject to capital gains tax u/s 111A or 112 or 112A.
3. INSURANCE
Life insurance is an important risk coverage that a person needs to take. It helps protect one's family in the event of any untoward event happening, by offering financial support. Though lot of schemes are given by insurers, a basic term policy or an endowment policy will be sufficient enough for an individual. The premium payment depends on the sum assured and the premium paid qualifies for deduction u/s 80C. The policy maturity amount at the time of maturity/event is also tax free. Insurance has often been overlooked since it does not offer the returns offered by market-linked products; nevertheless, they should not be ignored as they are safe risk cover products.
Medical insurance policies help protect a person against the rising medical expenses. As in term insurance, medical insurance premium also depend on the quantum of coverage taken. Section 80D offers deduction for health insurance premium for an individual and his family upto Rs.25,000 (Rs.50,000 in case of senior citizens). It is advisable that an individual takes a compulsory health insurance policy, by default, with as much coverage possible.
4. CONTRIBUTION TO NPS
NPS stands for National Pension fund Scheme. Managed by the PFRDA, NPS is a retirement savings scheme, open for all individuals of the nation who is over 18 years of age and not exceeding 65 years of age. There are two accounts - Tier I and Tier II. Tier II does not qualify for any tax deduction except in the case of specified government employees. All employee (voluntary) contributions made to Tier-I qualifies for a deduction of upto Rs.50,000 u/s 80CCD(1B) over and above Section 80C limit. NPS is based on market performances and is not totally risk-free. But for the past two to three years, NPS consistently generates a return of 10% to 12%, which has spiked interest in this product amongst youngsters.
In Part 2 we shall be covering options for persons into employment for some years and for persons with business income.
Disclaimer: This writeup aims to give introduction to these investment avenues - the user must consult a tax consultant before making an investment decision and also do basic research.
The author CA Rajasekaran.K is a self-driven active professional. Active in the field of practice and education, he has a unique student-friendly style of delivering classes. With immense experience and knowledge as a professional learning from him will make a student motivated.
Tags :
others